Curaçao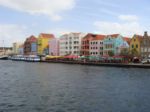 The island Curaçao
Curaçao is an autonomous part of the Kingdom of the Netherlands, which means that the Dutch Government takes care of their defence and foreign affairs, but that all other affairs are in the hands of Curaçao.
Every four years the population elects its parliament (the 'Staten') in free democratic elections.
Head of state is King Willem-Alexander of the Netherlands, represented by the governer of Curaçao. The governer is head of the government, and is appointed by the King of the Netherlands.
The capital of Curaçao is Willemstad, at the center of the island, on the southern coast alongside the island's seaport St. Anna Bay, and close to the airport.
The surface of the island measures 444 km2.
Curaçao's flag portrays the blue sea and sky, cut by the yellow sun. The two stars are Curaçao and its uninhabitated sister island Klein Curaçao; their five points symbolize the five continents from which the varied local population originates.
Follow this link for more information about Curaçao's geographical location, history, culture and many other facts: Curaçao Travel Guide.
Climate
Curaçao has a dry and sunny climate, the average temperature is about 28° C.
There is more difference in temperature between day and night, than between the seasons.
You can expect some rain mainly in November and December in the form of heavy short showers (making the roads very slippery!).
The current weather at Curaçao: https://www.timeanddate.com/weather/curacao/willemstad
Time
GMT/UTC minus 4 hours (minus 5 hours with Amsterdam wintertime, minus 6 hours with Amsterdam summertime).
The current time at Curaçao: https://www.timeanddate.com/worldclock/curacao/willemstad
Currency
The currency of Curaçao is the guilder (NAfl). 1 Euro is ongeveer 2.35 Nafl., depending on the daily exchange rate. The best exchange rate is obtained through one of the readily available ATM machines. The rate US$ – Nafl. is fixed: 1 US dollar = 1.77 NAfl. The rate of exchange usually granted by shops and hotels ranges from NAfl. 1.75 to NAfl. 1.80 for 1 US$. The US$ and the Euro are accepted in many places too.
Currency converter:
https://www.curacao-travelguide.com/travel-information/currency/.
Health risks
Sun burn, dehydration, fire coral, sea urchins, jellyfish. No vaccinations required.
Telephone
Country code +5999 followed by the subscriber number, no area codes are used on Curaçao.
Electricity
Mainly 110-130V, 50Hz; but 220V, 50Hz available in many places; American type of plugs are used.
Drinking water
The water from the tap is safe to drink. It is distilled seawater, purified and completely free of any health hazards. Imported bottles of water are also available.
Weights and measures
Mostly metric (meter, kg), except for American products.
Driving
Foreign and international driving licenses are valid, if issued by a member country of the Geneva Convention. International road signs are used at Curaçao. Where there are no road sigs, traffic from your right has the right of way, except on T-crossings.
Be careful: wet roads during and after rain showers are extremely slippery!
Shopping hours
From 8:00 am till noon and from 2:00 pm till 6:00 pm, Monday through Saturday.
Some stores (supermarkets) are also open Sunday mornings and on holidays when cruise ships are in port.
Prices in shops, supermarkets and restaurants are now including the sales tax (6%, 7% or 9%).
Public Holidays
1 January New Year's Day
Carnival Monday
Easter Holidays, inclusive Good Friday and Easter Monday
Easter Monday - Harvest Festival Parade (Seú)
27 April – King's Birthday
1 May – Labor Day
Ascension
2 July – Flag Day
10 October – Curaçao Day
24 December – Christmas Eve (half holiday)
25 December – Christmas
26 December – Boxing Day
31 December – New Year's Eve (half holiday)
Population
Curaçao has about 130.000 inhabitants with more than 40 nationalities. Most are of African or mixed African and European descent. The greater part of the population is of African origin.
Language
Dutch, Papiamentu, also English and Spanish.
The language of the people of Curaçao is Papiamentu, which is a mixture of Dutch, Portuguese, Spanish, English, French, African and some Arawak Indian. Papiamentu originated from a need to communicate between landowners and their slaves in the 17th century.
The official language is Dutch. Almost everyone on Curaçao speaks more than one language. At home Papiamentu is spoken; Dutch, English and Spanish are taught in school.
Religion
Mainly Roman Catholic; also Anglican, Methodist, Jewish and Islam.
Major industries
Oil refining and bunkering, tourism, offshore banking, phosphates.